10th Anniversary "An Artists' Retreat with Anna Rhodes"
An Artists' Retreat includes:
Six Day Artists' Course (April 19th – April 24th 2020, Sunday through Friday)
Individual and class instruction,
Artists' materials: a wide array is included and a supply list will be sent upon registration.
Spacious studio, including easels
Portfolio of course information
Films of artist's lives and lending library of art books
Tuition for An Artists' Course:
$1985 and $175 studio fee
$600 non-refundable deposit due upon registration
Accommodations Package at Cypress Inn & The Vagabond's House includes:
Guest Room (room choice is on a first-come basis)
Daily breakfast at inn
Daily lunch buffet in studio
Daily beverage service in studio
Welcome reception Sunday evening
Celebration dinner party Thursday evening
Tax, gratuities and delivery fees.
Single Occupancy: $2,840.95
Double Occupancy: $ 1,645.50
*Contact inn for deposit and cancellation policies.
*Cancellation and trip insurance may be obtained at Allianz Travel Insurance.
Call 1-831-624-3871 for more information.
Enjoy this special at: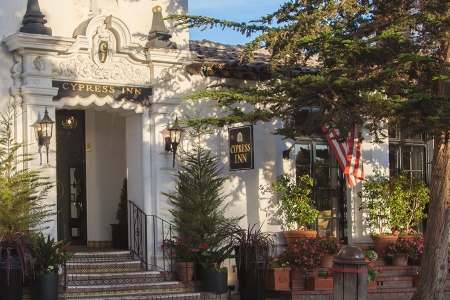 Nestled in the heart of Carmel-by-the-Sea, the iconic Cypress Inn has been a landmark boutique hotel of the Central Coast since 1929. Part of the elite collection of Carmel Boutique Inns, Cypress Inn offers a classic boutique luxury inn experience definitive...