Risotto with Asparagus
From Excelsior Inn in Eugene, Oregon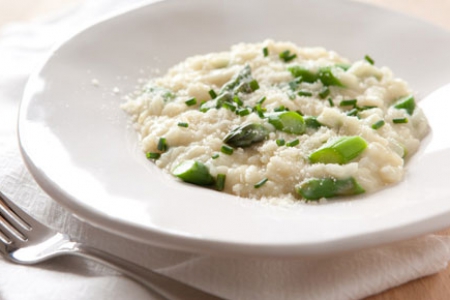 Think making 5 star risotto at home is impossible? Think again! Innkeeper and Executive chef Maurizio Paparo has generously shared his Risotto with Asparagus recipe that is quick, simple and most importantly - delicious!
Ingredients
2 large garlic cloves, sliced
2 T olive oil
3/4 c simple tomatoe sauce
1 package of roland saffron, dissolved into 1/4 c boiling water
1/2 c blanched chopped asparagus
1 3/4 c arborio rice
5 to 6 c chicken broth
1/2 to 3/4 c parmigiano, grated
1 diced small onion
2 tbsp butter + 2 tbsp more
1/4 c grated parmesan
Directions
Saute garlic and olive oil. Add tomatoe sauce, blanched asparagus and stir well. Add saffron water mixture and stir well. Take off hear and cool. When cool, cover.

Put 2 tablespoons of butter into a small saucepan, melt and add onion and saute until transparent. Add rice and str so that each kernel is covered with fat. Add salt and pepper. Start adding broth one ladle at a time until the rice is al dente. Remove from heat and add butter, stirring until melted. Add cheese gradually, stirring gently, and taste for seasoning. Serve immediately.
Filed in: Vegetables