Bread Pudding French Toast
From Portland's White House in Portland, Oregon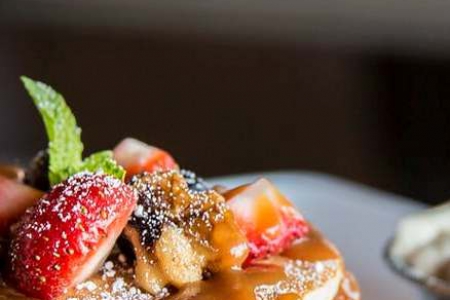 This bread pudding french toast recipe from Portland's White House is nothing short of fantastic. Bakes up beautifully and can be served with maple syrup, chopped apricots, fresh mint, berries whipped cream… whatever your heart desires.
Preheat oven 350

6 cups bread, cubed, dry, stale and firm (leftover bagels, muffins, etc.) 1/2 cup dried apricots, chopped 1/2 cup dried cranberries or other dried fruit 1 cup melted butter 4 cups heavy cream, whipping cream 4 cups whole milk 10 eggs, plus 8 additional yolks 5 teaspoon vanilla 1/2 teaspoon salt 1 1/4 cup sugar

Grease loaf pans. Fill ½ way with dry bread, apricots, cranberries black berry's etc. then more dry bread. In large mixing bowl, mix eggs with wire whisk and 1/2 sugar. Scald over water (double boiler) cream, milk, vanilla, and mix with wish together with eggs. Pour over bread mixture. Sprinkle remaining sugar. Add butter to the top.

Cook in oven in shallow pan filled with water to 1 inch below loaf pan. Bake 50-55 minutes... mixture will be custard like... This can be made into a "French toast", slice 1 1/2 inch thick (like bread)... fry on griddle with butter until golden.

Filed in: Breads, Breakfasts, Vegetarian