Carmel Apple Mimosa
From The Bed and Breakfast Inn at La Jolla in La Jolla, California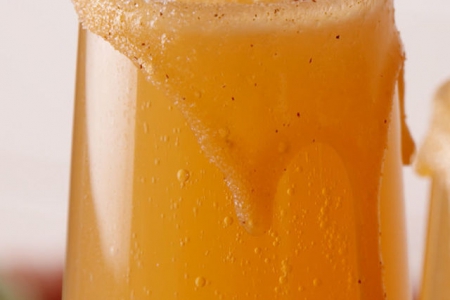 This caramel apple mimosa is the perfect cocktail to enjoy when you feel the first chill of fall. Ingredients like caramel, champagne and fresh apple slices make it equal parts sweet, crisp and smooth.
Ingredients:
2 tbsp. Caramel
2 tbsp. cinnamon sugar
1 c. apple cider
8 oz. caramel vodka
1 bottle champagne
Apple slices
Directions:
1. In a small dish, pour caramel sauce. In another small dish, pour cinnamon sugar. Dip champagne flutes into caramel to rim glass, then dip in cinnamon sugar.
2. Pour apple cider, caramel vodka, and top with champagne into flutes.
3. Garnish with an apple slice.
Filed in: Beverages & Cocktails