Chanterelle and Carmelized Onion Gallette
From China Beach Retreat in Ilwaco, Washington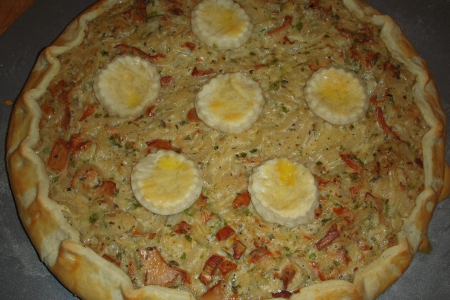 For nearly two decades, China Beach Retreat innkeepers David and Laurie hosted a Wild Mushroom Celebration on the Long Beach Peninsula and continue to forage and to promote the consumption and enjoyment of the fantastic fungi that grow here. So, they were happy to share this delicious recipe.
Crust for one galette:
1.5 c unbleached white flour
1/2 tsp salt
8 tblsp cold unsalted butter, cut into small pieces
5 tblsp ice water

1. Combine flour and salt in mixing bowl, fitted with a paddle attachment and stir just to combine.
2. Add the butter and continue stirring on slow until the mixture is the size of small peas.
3. Slowly add the water and mix until dough just comes together, being careful not to overtax.
4. She the dough into a flat disk and refrigerate for 30 minutes of longer.

For the onion filling:
3 tblsp unsalted butter
2 walls wall sweet onions, thinly sliced
3 medium leeks, white part only, thinly sliced
1/2 pound chanterelle mushrooms, chopped
1 tblsp dry vermouth
salt and fresh ground pepper
1 tsp dry thyme leaves, crumbled
1 tsp dry marjoram leaves, crumbled
2 tblsp finely chopped fresh italian parsley
1/2 c creme fraiche

Egg wash

1. Preheat the oven to 425 with rack in the middle.
2. Melt the butter in a large sauce pan over medium heat. When fully melted and bubbling add the sweet onions and sauce briefly. Then add the leeks. Continue to cook until the onions and leeks have cooked off some of their juices, and then add the chanterelles. Add the vermouth and season generously with salt and pepper. Continue cooking until the mushrooms have released their juices and the onions caramelize, about 10 minutes. Taste and season again with salt and pepper.
3. Add the other herbs and creme fraiche to the onion mushroom mixture. Check the seasonings again and add more salt and pepper if needed. Allow the mixture to cool for 15 minutes.
4. Roll the dough out to a 12 inc h circle with neat edges. Lay he dough onto a baking sheet and spread the cooled filling onto it, leaving about 1 1/2 inches clear of filling at the outer edge. Fold in the outer edge toward the centre and pinch it to flute it as you fold it in. Brush the outer edge with egg wash made from on egg yolk and 1 tsp water. Bake for 25 to 30 minutes.
Filed in: Appetizers & Snacks, Side, Vegetables, Vegetarian