Chocolate Buttermilk Layer Cake
From Balch Hotel in Dufur, Oregon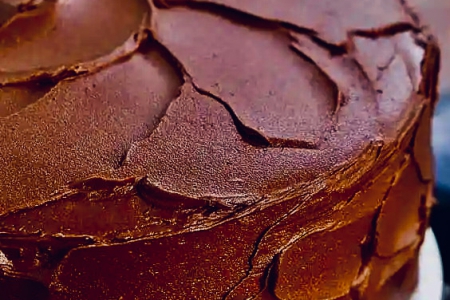 Searching for a delicious chocolate cake recipe that is hard to mess up? Try this recipe from the Historic Balch Hotel. This famous chocolate cake recipe is perfect for birthdays, but you'll want to make it for any celebration.
INGREDIENTS:
3 cups unbleached all-purpose flour
2½ cups sugar
1 tbsp + 1½ tsp baking soda
½ tsp salt
1 cup unsweetened cocoa powder, sifted
11/3 cups canola oil
1½ cups buttermilk
3 large eggs
1½ cups freshly brewed, extra-strong hot coffee
1 tsp pure vanilla extract
24 oz semisweet chocolate chips
1½ cups heavy whipping cream
Preheat oven to 350 degrees. Spray two 9-inch cake pans with nonstick spray, and line the bottoms with parchment paper.
Place flour, sugar, baking soda, salt and cocoa powder in a large mixing bowl. Using an electric mixer, mix on low to combine.
Keeping the mixer on low, add oil, buttermilk, then eggs one at a time.
Add hot coffee in a thin stream, pouring down side of bowl. Add vanilla and mix until batter is smooth.
Divide into pans and bake until a toothpick comes out with moist crumbs, about 30-35 minutes. Let cool in pans for at least 20 minutes.
Create a double boiler by filling a saucepan with 2 inches of water and bringing it to a boil. Place chocolate chips and cream in a stainless steel mixing bowl and set on top of simmering water. Allow mixture to melt—do not stir right away. When chocolate has melted, stir it with a whisk. Allow to cool at room temperature.
Remove cakes from pans. Place one layer of cake on a serving plate.
Trim the top with a serrated knife to make it even, place a scoop of ganache in the middle and smooth it out to the edges using a palette knife or spatula. Trim the top off the other layer and place the untrimmed side down on top of the frosted layer, pressing gently.
Spoon more ganache on top and smooth it around the sides, adding more ganache as needed to cover. If you need to apply a second coat of ganache, put the cake in the refrigerator for no more than 15 minutes to set before adding a second coat.