Chocolate Cake
From Excelsior Inn in Eugene, Oregon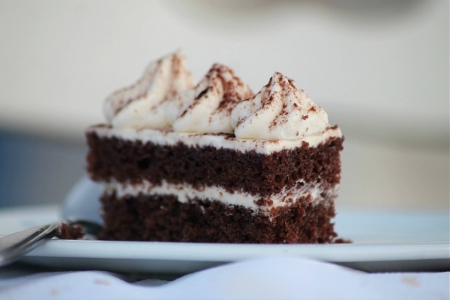 A delicious chocolate cake with cream cheese frosting from the Excelsior Inn.
Ingredients
1 lb. butter
2 c. Ghirardelli sweet ground chocolate
6 c. sifted cake flour
4 c. sugar
3 tsp. baking soda
2 tsp. baking powder
2 tsp. salt
8 eggs
4 cups buttermilk at room temp.
2 tbsp. vanilla
Directions
Melt butter gently in double boiler, then stir in the chocolate and cool to room temperature.Sift all dry ingredients together in a large metal bowl and stir with wire whisk. Whisk eggs lightly. Do not overbeat. Stir in buttermilk and vanilla. Add dry ingredients to wet gradually, stirring with a large whisk.Add butter-chocolate mixture. Blend well, avoid overbeating.Pour 2 cups of batter into three greased and floured 2x10 inch pans. Bake at 350 degrees for 30 mins. Cool cake for ten minutes, then transfer to wire cooling rack. Assembly: Put first layer onto a plate. Cover with cream cheese frosting 1/3 inch thick. Place second cake layer on top. Cover second with frosting. Repeat with third layer. Cover entire cake with a thin layer of frosting to cover the crumbs. Cool in refrigerator for 10-12 minutes. Ice entire cake smoothly with thicker layer of frosting.Make design around the edges using ½ cup measure of chocolate ganache. Let ganache drizzle down the sides of the cake. Add chocolate hearts for decoration.
Filed in: Cakes, Desserts, Vegetarian