Crème Brûlée Crepes
From Olea Hotel in Glen Ellen, California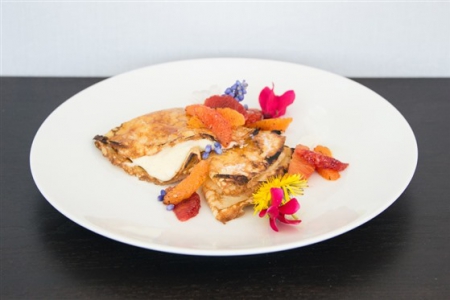 Make these delicious creme brulee crepes at home for yourself or guests. Top with (and torch!) sugar-sprinkled blood orange segments to make this recipe from the Olea Hotel even more amazing.
Ingredients
½ cup whole milk
1 egg per crepe
1 tablespoon sugar
¼ teaspoon salt
½ teaspoon vanilla extract
1 tablespoon Marsala wine
2 tablespoon butter, melted
1.65 ounces all-purpose flour, sifted
Crème Brûlée Filling:
2/3 cup whole milk
0.5 ounces butter
Directions
Crepes: In a blender, add milk, egg, sugar, salt, vanilla extract and Marsala wine. Blend until smooth. Sift the flour into a medium bowl. Slowly whisk the wet ingredients into the flour, making sure no lumps! Put everything back in the blender and mix on low speed until smooth. Drizzle in melted butter until incorporated.

When ready to make the crepes, heat your crepe pan on medium heat. Lightly brush the pan with butter. Pour the crepe batter into the pan using about ¼ cup per crepe. Tilt the pan using a circular motion so that the batter coats the pan evenly. Cook the crepe until the bottom is light brown in color. Loosen with a spatula, flip and cook the other side.

Crème Brûlée Filling: Place the whole milk, butter, and vanilla bean in a saucepan. Heat until warm and the butter has melted. In a bowl, sift together the sugar, salt, and cornstarch. Add the egg and whisk until incorporated. Slowly pour the warmed milk into the egg mixture, whisking to prevent lumps. Pour the mixture back into the saucepan. On medium heat, whisk vigorously until cornstarch taste is cooked out and the cream is thickened. Pour onto a sheet pan to cool to room temperature.

When ready to assemble your crepes: Whip pastry cream in a Kitchen Aid mixer with the paddle attachment. Add enough heavy cream to thin out until you get a spreadable consistency. Spread the pastry cream on each crepe and then fold into quarters. Sprinkle the top of the crepe with granulated sugar. Using a crème brûlée torch, caramelize the sugar. Top the crepes with blood orange segments, and sprinkle with granulated sugar. Using the crème brûlée torch again, burn the blood orange segments.
Filed in: Breakfasts, Vegetarian