Orange Cream Filled French Toast
From Inn at Occidental in Occidental, California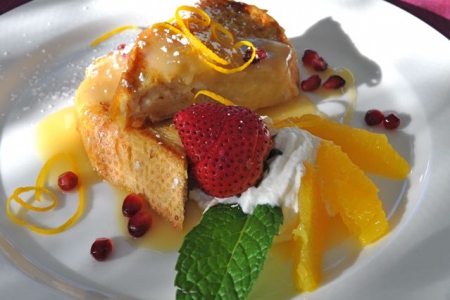 These easy to make orange cream filled french toasts from the Inn at Occidental are creamy, flavorful and over the top delicious.
Ingredients
4 oz. cream cheese, room temperature
1 Tbsp orange juice
1 large loaf day-old French bread, unsliced
4 large eggs
1 cup milk
2 Tbsp sugar, divided
2 Tbsp orange marmalade
1 tsp grated orange zest
1 tsp vanilla extract
2 Tbsp butter
½ cup butter, melted
3 Tbsp cornstarch
2/3 cup sugar
1 oz. orange zest
2 cups orange juice
Directions
In a small mixing bowl, combine cream cheese, orange juice, 1 tablespoon sugar, zest and marmalade. Slice the end off the bread. Cut next slice ½" thick, but not all the way through, to form a pocket. Cut the next slice ½" thick and all the way through. Slice the rest of the loaf, about 8 – 10 portions. Spread about a tablespoon of filling in each pocket, then press together. In large bowl, whisk the eggs, milk, remaining tablespoon of sugar, and vanilla. Dip each slice of stuffed bread in batter, turning to coat. Continue to dip all slices. (Note: Bread can be soaked overnight in liquid; turn over once.) Preheat a large skillet over medium heat. Add 1 Tbsp of butter and swirl to coat pan. When butter foams, add as many slices as will fit and cook until lightly browned. Turn and cook other side. Remove and keep warm. Cook until all slices are done. Serve with Orange Sauce.
For the Orange Sauce, melt butter with cornstarch for 1 minute. Heat juice and add. Stir until thickened, then add sugar. Bring to boil and then simmer for 5 minutes. Add about ¼ c maple syrup, or to taste.
Filed in: Breakfasts