Innkeeper's Mussel Chowder
From China Beach Retreat in Ilwaco, Washington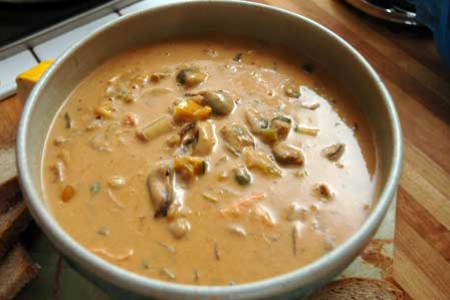 When Tony and Ann Kischner took over the restaurant at The Shelburne Inn in 1981, their new chef became ill on opening night. David Campiche, the Innkeeper, who resided at the inn with his family at that time, offered his help. The chef pointed to a large bag of fresh mussels and asked if he could come up with a soup or chowder using them. David dove in and to his and everyone's delight, the chowder was a hit and became a fixed item on the menu for many years.
Ingredients
5 pounds mussels in shells
1 cup dry white wine
1 pound thin-skinned potatoes
1 onion (1/2 pound)
1 stalk celery (3 oz.)
½ yellow or red pepper
3 Tablespoons butter
2 teaspoons curry powder, mild
¼ teaspoon cayenne pepper
1 ½ teaspoons dried basil
1 can tomato sauce (28 oz.)
2 cups whipping cream
Salt and pepper
Directions
Scrub mussels in cool water and remove the bissus threads or beards; discard any whose shells don't close when tapped. In an 8- to 10-quart pan, combine mussels and wine; bring to a boil over high heat. Cover and simmer over medium heat until mussels open, 5 to 8 minutes. Pour into a colander set in a large bowl to collect broth. Let mussels stand until cool enough to handle. Meanwhile, peel and cut potatoes into ½-inch cubes. Peel and chop onion. Rinse celery and dice into ¼-inch pieces. Wash and seed yellow pepper and dice. In the pan used for mussels, melt butter over medium heat. Add onion and celery; stir often until onion is limp, 6 to 8 minutes. Add curry powder, cayenne pepper and basil; stir until spices become more fragrant, about 30 seconds. Pour mussel juices from bowl into pan. Add tomato sauce, cream, and potatoes. Turn heat to high; when mixture is boiling, cover, reduce heat to low, and simmer, stirring occasionally, until flavors are well blended, about 30 minutes. Meanwhile, remove mussels from shells; discard shells.Add mussels to chowder; cover and simmer just until mussels are hot, 3 to 5 minutes. Do not overcook. Add salt and pepper to taste. Ladle into bowls. Serves 6 as a main course or 8 to 10 as a first-course serving.