Hot Cross Buns
From China Beach Retreat in Ilwaco, Washington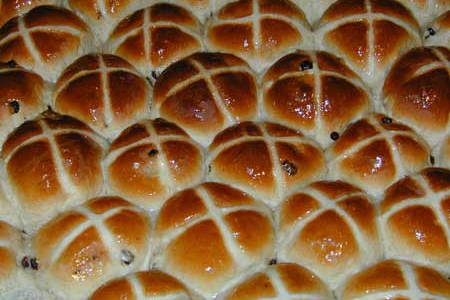 Traditionally, these buns are served for breakfast on Good Friday. Because the innkeepers at China Beach Retreat like them so much, they serve them all through Easter week, as they are a festive addition to the breakfast table, with a cross on top, and shiny with their sugar glaze coating.
Ingredients
8 cups all-purpose flour
½ cup plus
2 teaspoons sugar
2 Tablespoons dry yeast
1 ½ cups warm milk
1 cup warm water
2 teaspoons salt
1 teaspoon allspice
1 teaspoon ground cinnamon
1 teaspoon grated nutmeg
½ cup unsalted butter, softened
2 eggs, lightly beaten
2/3 cup currants
2/3 cup dark raisins
2/3 cup light raisins
1/2 cup flour
3 to 4 Tablespoons cool water
¼ cup granulated sugar
5 Tablespoons milk
Directions
Mix 2 cups flour, 2 teaspoons sugar, the yeast, warm milk and warm water. Cover the bowl and set this sponge aside for 20 minutes in a warm place. Mix the remaining flour with the salt, spices and remaining sugar. Add the softened butter, beaten eggs, dry ingredients, currants, dark and light raisins to the yeast batter, blending after each addition. Mix well to form a soft dough, adding extra flour if the dough is too sticky to handle. Turn the dough onto a lightly floured surface and knead until smooth, about ten minutes by hand or two to three minutes with a mixer and dough hook. Shape the dough into a ball and place it in an oiled bowl. Cover and let rise in a warm place until doubled in bulk, about one hour. Turn the dough onto a lightly floured surface, punch it down and knead it for about 2 minutes. Divide the dough into 24 pieces and shape them into buns by cupping your hand around each piece and rotating your hand in a circle while simultaneously pressing down lightly on the dough to form a small sphere. Place them on greased baking sheets. Cover and let rise for about 30 minutes in a warm place until they've doubled in size. Just before baking, top each bun with a cross using a pastry tube fitted with a small opening and filled with the cross paste (the consistency of frosting). Bake in a 375˚ oven for about 20 minutes. Transfer to a rack and brush each bun with a sugar glaze while still hot. For the sugar glaze. dissolve the sugar in the milk over low heat. Raise the heat and boil rapidly for two minutes.
Filed in: Breads