Wicked Shrimp
From The Inn at El Gaucho in Seattle, Washington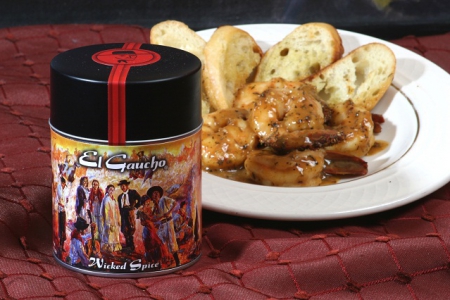 Steak is what El Gaucho is known for, but other menu items have earned a stellar reputations and become favorites as well. One of these dishes is Wicked Shrimp. Sautéed by an expert chef and delivered by a tux-clad waiter, it is always a treat to enjoy in the restaurant, but now you can impress your friends and make this delicious dish at home.
Ingredients
1 lb. Wild Sea of Cortez Prawns – size 16s-20's
¼ lb. butter 1 ½ tsp., Garlic, minced
1 ½ tsp. Lee & Perrins Sauce
1 1/3 Tbs. El Gaucho Wicked Spice*
½ c. Shrimp or Fish Stock
¼ c. Beer Grilled Tuscan Bread Slices
Directions
Melt ½ of the butter in a skillet on med-high heat. Add garlic, Lee & Perrins sauce, Wicked Spice, and Prawns, and sauté for 2-3 mins. Add beer and stock, cook 2 minutes, and swirl in remaining butter. Serve in a bowl or on a platter with Grilled Tuscan bread slices.
Filed in: Seafood