Corn Fritters with Poached Eggs, Smoked Salmon & Crème Fraiche
From Inn at Occidental in Occidental, California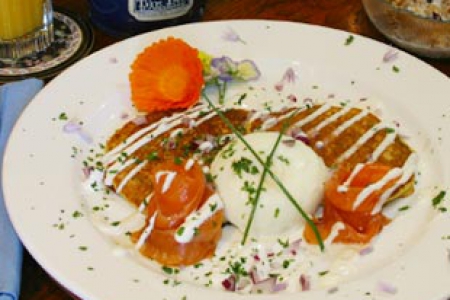 This guest favorite always earns rave reviews and is a real treat! This tasty recipe is surprisingly simple and perfect for a Sunday morning or anytime you want to impress.
Ingredients
1 cup water, boiling
1 cup cornmeal, yellow or white
4 tablespoons butter
1 cup all purpose flour
1-1/2 teaspoons baking powder
3 tablespoons sugar
9 eggs (3 for fritters batter and 6 for poaching)
1 cup milk 1
1/4 cup diced red bell pepper
1 1/2 cup fresh corn kernels
1/4 cup green onions
1/4 cup minced red onion
1/4 cup finely chopped parsley
1/2 cup crème fraiche or sour cream
12 slices of smoked salmon
Directions
Combine the boiling water, cornmeal, and butter in a large bowl. This will soften the cornmeal. In one bowl, combine flour, baking powder, and sugar. In another bowl beat the milk and eggs. By now the cornmeal, water, and butter mixture will be cool, stir to make a smooth paste. Add the egg and milk, and blend until smooth. Add the dry ingredients. Blend, then fold in red bell peppers and green onions. Cook like a pancake on a griddle or in a fry pan. Arrange the fritters on the plate with salmon and egg. Drizzle with crème fraîche and sprinkle with red onion and parsley.
Filed in: Eggs