Presidential Quiche
From Portland's White House in Portland, Oregon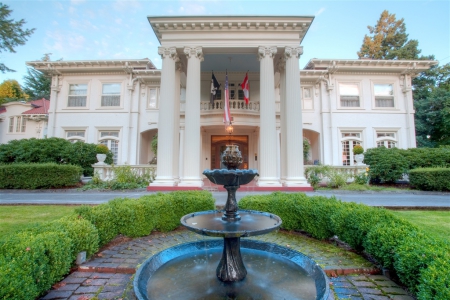 This quiche from Portland's White House is the perfect thing for brunch of lunch. Serve on a pretty pie plate for a summertime showstopper.
Ingredients
Two prepared pie crusts pans brushed with egg whites to give a glossy finished when baked
8 Eggs
1 cup Cream (or Milk)
2 cups approx. Cheese (we use a variety of Cheddar, Jack, Brie, Gorgonzola, Goat and misc. hard cheeses)
2 cups approx. Vegetables (we sauté or bake sliced or whole mushrooms, cut up asparagus, sweet onions & green beans, cut in half Brussels Sprouts, Mini Peppers and Baby Squash). You might also like to add meat. Italian Sausage, Bacon, Ham, etc.
Directions
Bake (about 45 minutes at 350 degrees) or sauté (about 25 minutes on low heat) selection of vegetables in olive oil (or butter), garlic cloves and generously sprinkled with sea salt and pepper. Layer sautéed vegetables in prepared pie crusts (add meat prior to cheese) then top with cheese prior to adding the mixed egg & milk mixture. Mix eggs and milk and pour over the vegetable and cheese layers. Fill just below the pie crust rim. Bake at 350 degrees for 35-45 minutes or until set. If the middle jiggles it's just not ready yet. Garnish with arugula, asparagus and sliced tomatoes.
Filed in: Eggs