Cinnamon Nut Pancakes
From The Bed and Breakfast Inn at La Jolla in La Jolla, California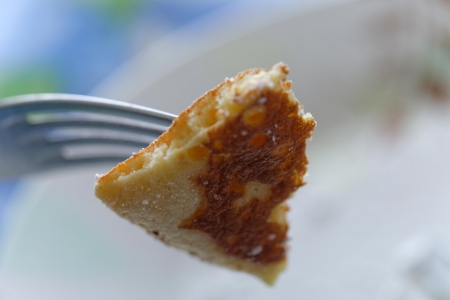 If you can't stay at the Bed & Breakfast Inn at La Jolla, make their cinnamon nut pancakes for a taste of life at the beach!
Ingredients
2 cups of flour
2 tbsp. granulated sugar
1 tbsp. baking powder
1 tbsp. ground cinnamon
1/2 tsp. salt
1 cup buttermilk
3/4 cup milk
2 large eggs
1/2 tsp. vanilla extract
1/4 cup melted butter
1 cup glazed walnuts or pecans (have extra to garnish)
Vegetable oil
1/2 cup butter (this will be used to make nut butter for serving)
Maple syrup and banana slices for serving
Directions
In a medium size bowl whisk together the flour, sugar, baking powder, cinnamon, and salt. In a large bowl mix together the buttermilk, milk, eggs, vanilla extract, and melted butter. Gradually add the dry mixed ingredients from step 1 and stir until moistened. Stir in 3/4 cups of walnuts or pecans. Coat large skillet with cooking spray and brush on vegetable oil; heat until hot enough for water to sizzle. Then spoon 1/4 cup of the batter into the skillet and cook about 2 min. per side. Look for bubbles to form as a hint to flip. Repeat with remaining batter. Finely chop remaining nuts; stir into 1/2 cup of butter to create a nut butter for serving. Serve pancakes to mom with nut butter, syrup and bananas if desired. Enjoy!
Filed in: Breakfasts