Cranberry Almond Muffins
From The Bed and Breakfast Inn at La Jolla in La Jolla, California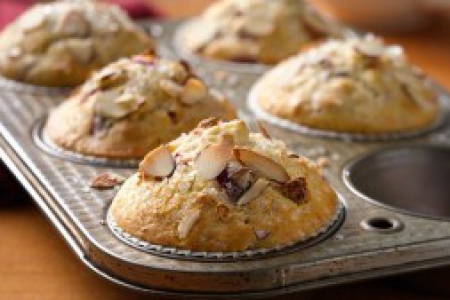 Perfect for a special morning or just because, this cranberry almond muffin recipe from the Bed & Breakfast Inn at La Jolla is sure to have your taste buds singing.
Ingredients
1 3/4 Cups all-purpose flour
1 1/2 Cups whole-wheat flour
3/4 Cups sugar
1 Tablespoon baking powder
1/2 Teaspoon Baking Soda
1/2 Teaspoon of salt
1/2 Teaspoon ground nutmeg
1 Cup cranberries, each cut in half
1/2 Cup sliced natural almonds
1/3 Cup butter
1 Cup milk
1 Large egg
Directions
Preheat oven to 375 or 400 for regular muffins. Generously grease six jumbo or 12 regular muffin cups. If you are using the custard cups, arrange them on a small jelly-roll pan for easier handling. In a large bowl, with a fork, combine the flours, sugar, baking powder, baking soda, salt, and nutmeg. Add the cranberries and almons. Toss to mix well and set aside. In a 1- quart saucepan, melt the butter. Cool it sightly. Stir in the milk, then beat in the egg. Stir the liquid into the flour mixture just until moistened; the batter will be lumpy. Divide the batter among the greased cups. Bake the jumbo muffins 30 to 35 minutes, or the regular ones 20 minutes. A cake tester should come out clean. Let the muffings stand 5 minutes before removing them from the cups. Serve warm.
Filed in: Breakfasts, Muffins