Pumpkin French Toast
From The Bed and Breakfast Inn at La Jolla in La Jolla, California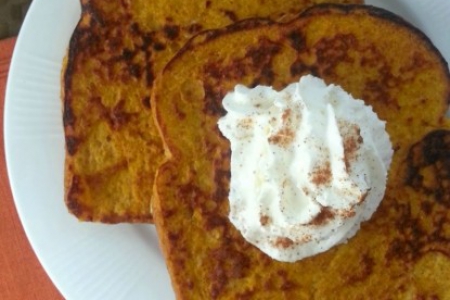 This Fall breakfast favorite from the Bed and Breakfast Inn at La Jolla is easy to make and tastes (and smells) delicious. Make this French toast even more special by serving it with candied walnuts and fresh whipped cream.
Ingredients
6 large eggs
3 tablespoons canned pumpkin puree
1/2 teaspoon ground cinnamon
1/2 teaspoon ground nutmeg
8 slices white bread
3 tablespoons walnut pieces
Directions
Preheat grill to medium and spray with nonstick cooking spray.
Whisk eggs, pumpkin puree, cinnamon, and nutmeg until frothy.
Dip bread slices in mixture, coating both sides.
Grill for about 3 minutes on each side (until each is crisp and brown).
Serve with additional toppings (walnuts, whipped cream, maple syrup) immediately.
Filed in: Breakfasts