Crab Fondue
From Edwin K Bed & Breakfast in Florence, Oregon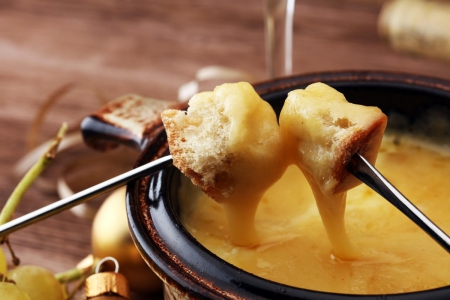 This hot crab dip is an easy and fun appetizer that is always a crowd pleaser.
Ingredients:
5 ounces Kraft Old English Sharp Cheese Spread
8 ounces cream cheese
7-1/2 ounces canned crab meat
1/4 cup light cream (half & half)
1/4 teaspoon garlic salt
1/2 Worcestershire sauce
1/4 teaspoon cayenne pepper
Directions:
In a double boiler, place cheese spread and cream cheese and stir until smooth.
Add remainder of ingredients, heat, stirring constantly until thoroughly blended.
If too thick, add half & half, continue stirring until smooth and hot.
Place in a fondue pot, keep hot and serve with chunks of french bread on fondue forks.
Filed in: Appetizers & Snacks, Seafood