Watercress and Fennel Salad
From The Inn at El Gaucho in Seattle, Washington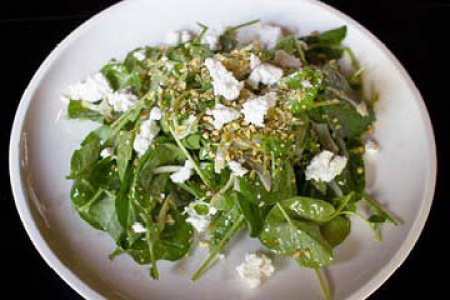 The Dijon mustard gives the salad a wonderful balance against the refreshing and crunchy fennel, and the goat cheese with pistachios round out the flavor and texture. This recipe is sure to be a go-to favorite whether you are entertaining friends or simply craving a quick and healthy meal for one.
Ingredients
3.5 oz. Watercress
2 oz. Honey Dijon Dressing
1.5 oz. Fennel, sliced thin
.75 oz toasted Pistachios
1.5 oz. Goat cheese
Pinch Salt & pepper
Toss watercress, fennel and some of the dressing into a bowl and toss. Add goat cheese, pistachios, and salt pepper on top to taste. Serve. You can store the remaining dressing in the fridge up to a week.
Honey Dijon Dressing
¾ cup honey
1 cup Dijon mustard
Mix together well.
Filed in: Salads & Dressings, Vegetables