Apricot White Chocolate Chip Scones
From Eden Vale Inn in Placerville, California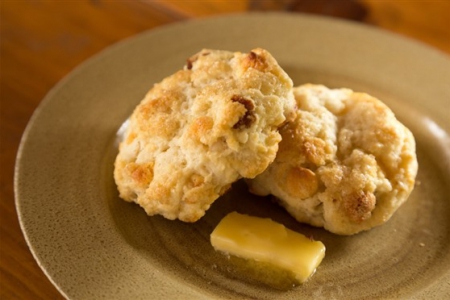 Create a scrumptious Eden Vale Inn favourite at home. These apricot white chocolate chip scones are simple to make and a yummy treat.
Ingredients
1 and 1/3 C All-purpose flour
1 and 1/3 C Milk
Lemon Zest
salt
Chopped dried apricots (or other fruit)
Heavy cream (substitute 1 tsp cream w/1 tsp lemon juice) - Optional
Directions
Preheat oven to 400 degrees. Prepare cookie sheet by cutting a piece of parchment to size.

By hand, mix flour, sugar, baking powder, zest, salt, dried fruit and white chips. Pour in the heavy cream and mix or knead by hand just until combined (about 45 seconds). Mix will be sticky.

Flour surface. Pat dough to an 8" round. Cut in half and form 2 circles. Cut each circle into 6 triangles. If doubling recipe, make 4 circles and cut into 6 triangles. Place on cookie sheet and freeze overnight.

Bake 15-20 minutes. Check after 10 minutes and turn tray. Done when flecked with gold brown on top and bottom.

Wrap in counterfold waxed paper and freeze until needed. When ready to bake place number needed on cookie sheet with parchment paper. Brush with cream and sprinkle with turbinado sugar.
Filed in: Breakfasts, Desserts, Scones