CoconOAT Cookies
From Pine Ridge Inn in Bend, Oregon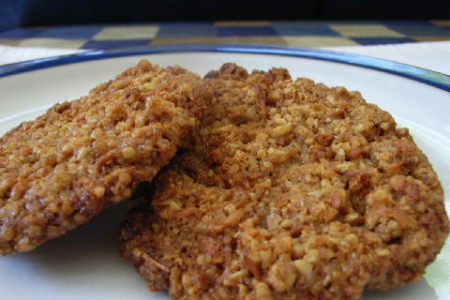 Made fresh daily and served in the lobby at the Pine Ridge Inn, these cookies are a favorite among guests. Treat yourself to the warm comfort of homemade coconut oatmeal cookies fresh out of the oven, curl up with a cup of cocoa or glass of milk and enjoy!
Ingredients
1 cup vegetable shortening
1 t baking soda
1 cup sugar
1 t salt
1 cup packed brown sugar
3 cups oats
2 eggs
1 cup sliced almonds
1 t vanilla extract
1 cup shredded coconut
1 cup all-purpose flour
Directions
Makes 4 to 5 dozen Preheat oven to 350 degrees. Grease about 4 cookie sheets. Beat shortening and sugars together until creamy. Add eggs and vanilla; mix well. In a separate bowl, combine flour, baking soda, and salt. Add to shortening mixture; mix well. Stir in oats, almonds, and coconut. Roll dough into balls. Place 2 inches apart on prepared cookie sheets. Flatten with fork. Bake 10 to 12 minutes or until lightly browned. Let stand one minute before removing to cooling racks.
Filed in: Cookies