Cottage Grove Inn Quiche
From Cottage Grove Inn in Calistoga, California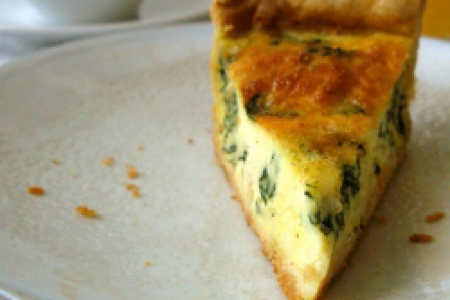 This flavorful quiche is served to guests of the Cottage Grove Inn providing a delicious and filling start to a day exploring wine country. Create this savory classic at home to wow your own guests. Add your own choice of fillings for a personal flair.
Ingredients for Cornmeal Dough
5oz All Purpose Flour
3oz Cornmeal 5.3oz Butter (cold)
1 Tsp Sugar
1.5oz Cold Water
Directions
Combine all dry ingredients, then add water till combined and chill for an hour, then roll and place into pie pan
Ingredients for Quiche Custard
1 1/8 cup Heavy Cream
3 each Whole Eggs
3 each Egg Yolks
½ tsp Salt
Dash Nutmeg
2 ½ tsp Chopped Parsley
Dash Cayenne Pepper
1 tsp Lemon Juice
Directions
Combine all, then pour into crust, add any filling (like ham, for example) and bake at 350 degrees till done.
Filed in: Breakfasts, Eggs