Easy Oregon Buttermilk Pancakes
From Pine Ridge Inn in Bend, Oregon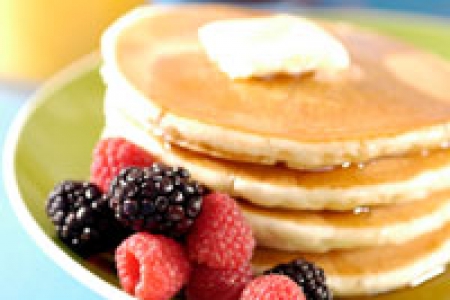 Want to make perfect buttermilk pancakes? Keep it simple! Everyone loves these easy Oregon Buttermilk Pancakes. They are wonderfully thick with a light, fluffy texture, and the delicious flavor only hints at the richness of the buttermilk. And the secret to make sure they turn out great: don't over mix!
Ingredients
2 ½ Cups Flour
2 T Baking Soda
1 T Salt
2 Cups sour cream
4 t Vanilla
¼ Cup Sugar
2 Cups buttermilk
2 large eggs
3 T unsalted butter (melted)
Directions
Whisk first five ingredients together; whisk buttermilk, sour cream, eggs, and vanilla in another large bowl. Add dry ingredients and stir until just blended but still lumpy. Do not over mix or pancakes will be tough. Cook over medium heat on a slightly greased skillet. Makes enough for twenty. Serve with berries or syrups of your choice.
Filed in: Breakfasts