Espresso Cheesecake
From Turtleback Farm Inn in Orcas Island, Washington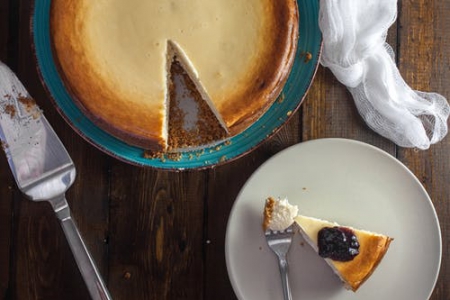 A little indulgence is good for the soul and this decadant kahlua cheesecake from Turtleback Farm Inn is definitely one dessert that is hard to turn down.
Ingredients:
8 ounces Oreo cookies or 8 ounces other chocolate wafer cookies, finely crushed
1⁄4 cup butter, melted
2 lbs cream cheese, softened
3 eggs
3⁄4 cup brown sugar, packed
1⁄2 cup sour cream
1⁄4 cup Kahlua or 1⁄4 cup other coffee liqueur
1⁄4 cup strong espresso, cooled
1 teaspoon vanilla extract
3⁄4 teaspoon salt
Directions:
PREHEAT THE OVEN to 350°F Lightly grease an 8- or 9-inch springform pan.
STIR TOGETHER the crushed cookies and melted butter. Press the crumb mixture evenly onto the bottom and sides of the springform pan. Set aside.
BEAT THE CREAM CHEESE in the large bowl of an electric mixer until smooth and creamy. Add the eggs, followed by the brown sugar, sour cream, Kahlua, espresso, vanilla, and salt. When thoroughly blended and smooth, pour the filling into the prepared crust and bake until set (the center should not shudder when the pan is gently shaken), 60 to 70 minutes. Let cool thoroughly, then chill overnight before serving. Remove the rim of the springform pan and cut the cheesecake into wedges to serve.
Filed in: Beverages & Cocktails, Cakes, Christmas, Desserts