Herbed Baked Eggs
From Hanford House Inn in Sutter Creek, California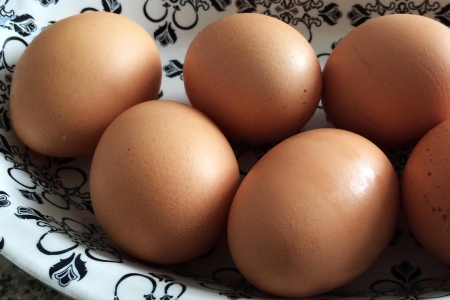 Making a delicious breakfast has never been easier! These baked eggs come out into perfect portion sizes and looking like mini soufflés.
Ingredients:
4 large ham slices
6 eggs
1 teaspoon dijon mustard
1/2 cup plain yogurt
1 1/2 cups shredded chedder cheese
2 teaspoons chopped fresh chives
2 teaspoons chopped fresh parsley

Directions:
Preheat oven to 375 degrees F. Place 1 slice ham in each greased large ramekin or custard cup. In medium bowl, beat eggs, mustard and yogurt. Stir 1/2 cup of cheese, 1 teaspoon chives and 1 teaspoon parsley into egg mixture: mix well. Spoon egg mixture evenly over ham in ramekins. Sprinkle remaining cheese and herbs over egg mixture. Bake 25 to 30 minutes or until golden and set. Garnish with sprigs of fresh herbs if desired.
Filed in: Breakfasts, Eggs