No Trespassing Blackberry Pie
From China Beach Retreat in Ilwaco, Washington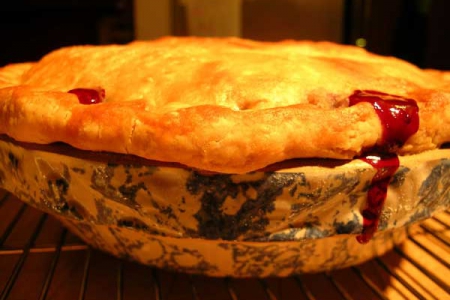 What could be better than spending a warm summer afternoon picking plump, perfectly ripe blackberries? Enjoying the China Beach Retreats No Trespassing Blackberry Pie! With a flaky golden crust and prefectly tart filling, this classic crowd pleaser is so tasty it's worth the brambles and purple-stained fingers.
Pastry Ingredients (for two-crust 10-inch pie)
3 cups unbleached white flour
1 teaspoon salt
1/2 cup cold, unsalted butter cut into 1/2 inch cubes
1/2 cup cold shortening
1 large egg
2 Tablespoons vinegar
1/4 cup ice water
Blackberry Filling Ingredients
5 to 6 cups fresh blackberries
1-1/4 cups sugar
3/8 cup flour
3/4 teaspoon cinnamon
2 teaspoons grated orange rind
2 Tablespoons butter
Milk and sugar for topping
Directions
Sift the flour and salt together into a bowl. Cut in the butter and shortening until the size of small peas. Lightly beat the egg and combine it with the vinegar and water. While stirring, slowly add liquid mixture to the flour and butter mixture just to hold the dough together, and then form a ball with your hand. Separate into two equal portions, wrap with plastic wrap and refrigerate while assembling the berry filling.
Combine sugar and flour. Stir well. Add cinnamon, orange rind and berries. Stir gently but well. Pour into pastry-lined, 10-inch pie plate. Dot with butter. Arrange vented top crust over filling. Seal edges. Brush with milk and sprinkle sugar over the top. Bake in a 450º oven for 10 minutes. Reduce heat to 350º and bake for 50 to 60 minutes longer, until crust is a nice, golden color. The filling will thicken after the pie has cooled somewhat and it will be easier to serve at that time.
Filed in: Pies