Potato Torta
From Inn at Occidental in Occidental, California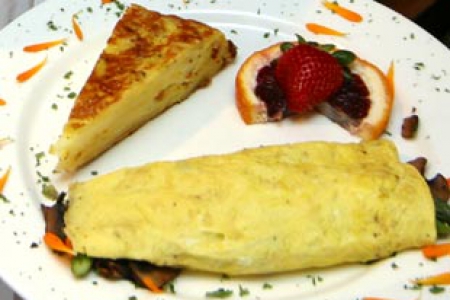 Warm, comforting and sure to get you through the day's adventures, this hearty potato dish works for breakfast or lunch. Serves as a tasty side to omelets or any other breakfast favorite for up to six people. Try serving with your own signature sauce for a personal twist.
Ingredients
5 Yukon Gold potatoes sliced 1/8-inch thick
Enough canola oil to cover the potatoes
1/2 cup diced red bell peppers
1/2 cup sliced green onions
7 eggs
2 teaspoons salt
1 teaspoon black pepper
1 teaspoon butter
Directions
Place potatoes in medium saucepan and cover with the oil. Turn flame to medium. Be sure not to overcook the potatoes. Check them every few minutes. When the potatoes are done strain them and save the oil to use next time. Let potatoes cool. Whip eggs in a bowl and add potatoes when cool. Carefully fold in the green onions and red bell peppers. Heat butter in a nonstick pan; pour in potatoes and egg mixture. Turn heat to medium. Using a rubber spatula press down on top to level off. Let cook for 2 minutes. Once the mixture has set up a little it is time to turn out onto a plate and return it to the pan to cook the other side. Have burner on medium for a few minutes. Then place in oven 5 five minutes to finish cooking. When done turn out on a plate and slice into wedges.
Filed in: Breakfasts, Vegetables