Quick Irish Soda Bread
From Seattle Gaslight Inn in Seattle, Washington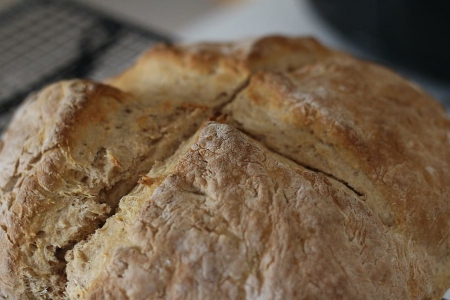 This tasty, quick irish soda bread recipe from Seattle Gaslight Inn does not require any yeast - all of its leavening comes from baking soda and buttermilk.
Ingredients: 

2 cups all purpose flour
1 tsp salt
3/4 tsp baking powder
1/4 tsp + pinch baking soda
1 to 1 1/4 cups buttermilk



Directions:

Preheat oven to 375 degrees. 
In a medium bowl combine all ingredients except for buttermilk.
Stir in 1 cup of buttermilk and mix well. Add more if needed until dough pulls away from sides of bowl and forms a ball.
Place dough on floured surface and knead for 30 seconds. Place on a greased cookie sheet and using a sharp knife, score a large X on top of loaf.
Bake for 45 minutes until loaf sounds hollow when tapped.
Filed in: Breads, Vegetarian