Turtleback Farm Inn Pavlova
From Turtleback Farm Inn in Orcas Island, Washington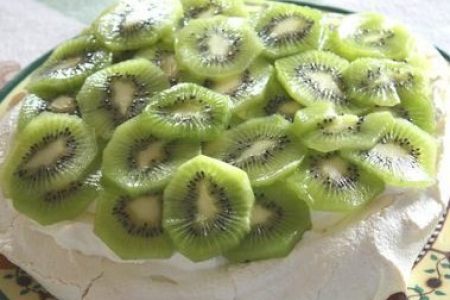 Pavlova is an Aussie dessert. Innkeeper Bill Fletcher homesteaded in Australia for a few years, so this is one of his favorites. This is a natural for us because we often use Hollandaise at the inn. The contrast of flavors and textures in this dish is always interesting.
Ingredients
4 egg whites, room temperature
1/2 teaspoon salt
1/4 teaspoon cream of tartar
1 cup fine granulated sugar
4 teaspoons cornstarch
2 teaspoons white wine vinegar
1 teaspoon pure vanilla
1 cup heavy cream, whipped
2-3 kiwis, peeled and sliced
Directions
Preheat oven to 275 degrees. Grease and flour a 10 inch springform cake pan. Place egg whites in mixer bowl with salt and cream of tartar. Beat until they hold stiff peaks. Add sugar, 1 heaping tablespoon at a time, beating constantly until mixture is smooth and glossy. This takes 7-10 minutes. Beat in cornstarch, vinegar and vanilla. Pile gently into cake pan. Pile higher on sides to form a bowl. Bake in slow oven, 60-90 minutes. Bake until meringue is pale beige and firm. It will pull away from the sides of the pan. Whip cream just before serving and pile on pavlova. Cover top with sliced kiwi. Serve at once.
Filed in: Desserts