Vegan Potato Pancake Stack
From Portland's White House in Portland, Oregon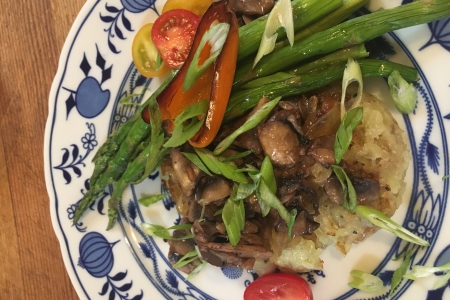 It's not hard to see why this Vegan Potato Pancake Stack recipe from Portland's White House is a guest favorite! Impressive looking, delicious tasting and easily adaptable, it's fun to make too!
Potato Pancake
Boil baby blend of Red, Yukon gold and purple potatoes until soft
Mash, add salt, cumin and pepper then form into a potato pancake
Cook in a sauté pan in olive oil until crispy brown on each side
On the potato pancake layer next
Caramelized Onions
In olive oil add a little salt and sauté the chopped or sliced onions until they caramelize.
Over the onions add sautéed mushrooms
In olive oil add a little truffle salt and pepper with a little red wine to sauté the mushrooms
On the side add Asparagus
Sprinkle rock salt and olive oil over the asparagus and bake at 350 on a cookie sheet for 20 minutes in the oven...
Garnish with a sautéed baby bell pepper, chopped green onion and tomatoes.
You could add other vegetables and/or tofu. Or another op add 2 poached eggs and do a mushroom sauce or hollandaise over it.
Filed in: Breakfasts, Vegan, Vegetables