Sautéed Spaghetti Squash
From The Inn at El Gaucho in Seattle, Washington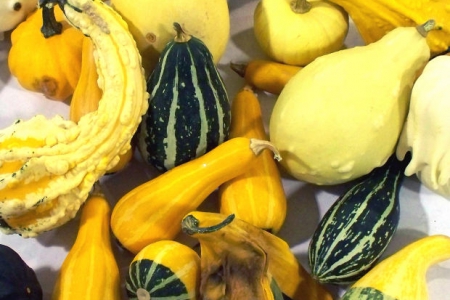 Spaghetti squash is a great alternative to pasta, especially with the emergence of gluten-free and low-carb diets. No wonder it's called vegetable spaghetti, vegetable marrow, or noodle squash. It has a mild, nut like flavor that stands up well to hearty, rustic tomato sauces. The beauty of this squash is it can be stored at room temperature for up to a month, and also freezes well. A small, watermelon-shape variety, it ranges in size from 2-5 pounds.
Ingredients
12 oz. Spaghetti squash roasted and pulled
2 ½ oz sundried tomatoes
1 oz olive oil 5 basil leaves
½ tsp El Gaucho seasoning
1 ½ oz candied pecans
2 oz shallots, minced
½ roma tomato, diced
¼ lemon for juice
1 tsp parsley, for garnish
Directions
Preheat oven to 375*F. Roast squash for about one hour (depending on size). Let cool. Remove seeds. With a fork, scrape the squash away from the shell. Heat olive oil in sauté pan, add sundried tomato and diced roma tomato, toss to coat with oil. Add shallots and cook until fragrant. Add squash and quickly toss to combine and heat the squash. Remove from heat and add basil, squeeze with lemon. Plate on a heated bowl, top with parsley and pecans, and serve.
Filed in: Side, Vegetables