Creamy Polenta with Fruit Compote
From Inn at Occidental in Occidental, California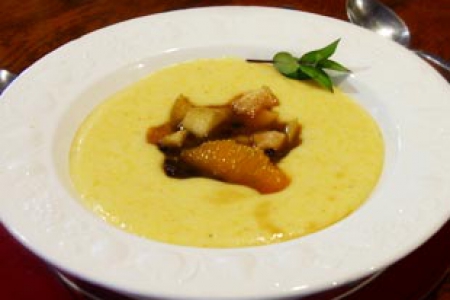 This creamy polenta dish is one of the most popular breakfast recipes at the Inn at Occidental. Dressed with a fabulous fruit compote, polenta never tasted so good!
Ingredients
1 gallon water
1/2 pound butter
3 1/8 cups polenta
2 tablespoon salt
1/4 pound fontina cheese
1/2 cup parmesan cheese
3 large diced Granny Smith apples
3 pears large diced
1/4 cup currants
1 cup apple juice
2/3 cup brown sugar
1 cinnamon stick
5 allspice berries
1/2 teaspoon nutmeg
1 Earl Grey tea bag
1 cup orange segments
1 cup grapefruit segments
1 cut vanilla bean with seeds scraped out
1 cup maple syrup
Directions
Polenta: Bring water and butter to a boil. While stirring with a whisk, add the polenta slowly. Stir until polenta starts to get thick, turn to low and stir often for 50 minutes. When polenta is done, add cheese and salt and keep warm in a double boiler.
Fruit Compote: In a large stainless steel pot, add apple juice, brown sugar, vanilla bean and seeds, and spices. Simmer for five minutes, then add the apples, pears, tea bag, and currents. Simmer for eight minutes or until the fruit is tender. Strain, reduce the liquid until syrup consistency, add to fruit. Add the maple syrup and grapefruit and orange segments.
Tips: Stir polenta often, or it will burn and develop a skin on the bottom. It may take more salt than you think. If the apples and pears are ripe, do not cook as long.
Filed in: Breakfasts