Chicken Marsala
From Portland's White House in Portland, Oregon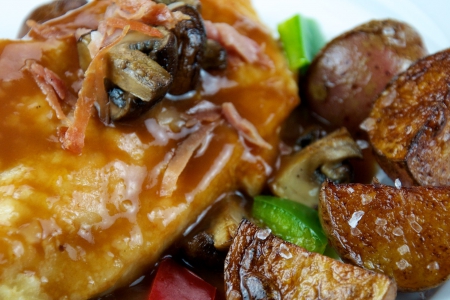 This chicken Marsala recipe fro Portland's White House contains boneless chicken breasts and thighs, parsley and Marsala wine. This is an easy and elegant dish, perfect for a family meal or special occasion. Make it your own, by throwing in some extra veggies, serving it over pasta or rice, or even just slices of thick crusty bread - perfect for sopping up the delicious Marsala sauce.
Ingredients
4 boneless fresh chicken breast, cut into quarters
4 boneless fresh chicken thighs, cut in half
1 cup buttermilk
1 ½ cups button mushrooms, quartered
2 cups flour
1 teaspoon kosher salt
1 teaspoon course ground pepper
Peanut oil for frying
1 cup sweet marsala wine
2 tablespoons finely chopped parsley
Directions
Rinse chicken in cold water, let sit in buttermilk overnight. Mix flour, salt and pepper in separate bowl, add chicken, toss to coat evenly. In a large skillet, heat ½ inch peanut oil over medium heat, Place chicken pieces in oil so as not to splash, cook till golden, turning several times. Remove from skillet and place in glass pan. Add mushrooms and marsala. Bake @ 350 degrees for 35 minutes. Transfer to platter, garnish with chopped parsley. Serve immediately.
Filed in: Poultry