Perfect Norwegian Potato Lefse
From China Beach Retreat in Ilwaco, Washington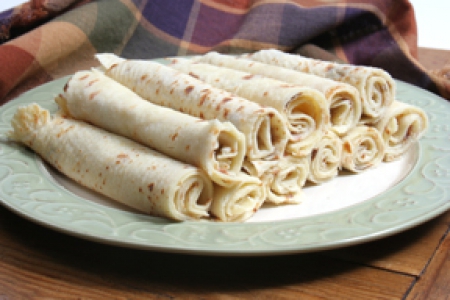 This popular China Beach Retreat recipe is collaboration with a friend of innkeeper Laurie Anderson, who used to make Lefse together. On one occasion Laurie paid meticulous attention to every step of the production and wrote the recipe down. The lefse was perfect and the recipe seemed to be a combination of their grandmother's recipes and their combined experience. It can be seved buttered with sugar, cinnamon or cranberry sauce rolled up inside.
Ingredients
10 pounds Russet Potatoes, cooked with jackets on and peeled when hot then riced. If you peel the potatoes first, the recipe may require less cream, as the potatoes absorb more water during boiling when peeled.
¼ pound butter, melted
1 tablespoon salt
1 tablespoon sugar
1 cup heavy cream
Directions
Stir and refrigerate all ingredients overnight, uncovered. The next day add another pint of whipping cream, mashing thoroughly. (You may need a little less depending upon how moist your potatoes were). Then for the lefse, add ½ cup flour to every 2 cups of potato mixture. Roll thin, using rolling pin, adding as little flour as need to prevent sticking and cook over a medium heat until very lightly browned on both sides. Stick lefse, one atop another on a plate after cooking. After cooling, wrap in a muslin cloth and store in a plastic bag in refrigerator.
Filed in: Side, Vegetables