Rhubarb Raspberry Linzer Torte
From China Beach Retreat in Ilwaco, Washington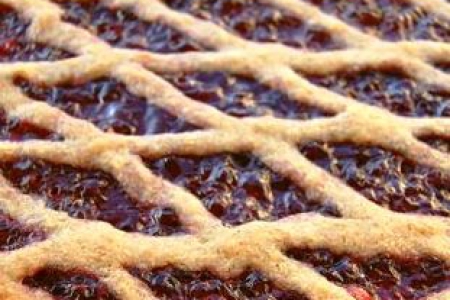 This fresh and tasty tart-like dessert shared with us by Laurie Anderson of China Beach Retreat is every bit as delicious as it looks - and it looks amazing!
Crust Ingredients
¾ cup unsalted butter at room temperature
¾ cup fine granulated sugar
1 egg
¾ cup toasted, cooled and ground pecans
1 ½ cup all purpose flour
½ teaspoon cinnamon
½ teaspoon nutmeg
¼ teaspoon cloves
¼ teaspoon allspice
¼ teaspoon salt
Directions
Preheat oven to 400° By machine, cream butter and sugar together until creamy and light. Add egg and mix until thoroughly incorporated. Add the pecans. Sift flour with spices and salt and then add to the butter mixture, stirring until it becomes doughy. Remove from bowl, wrap in plastic wrap and refrigerate for 1 to 2 hours. Butter the bottoms and sides of a 9-inch springform pan. Using your fingers (you may need to flour them from time to time) pat a little more than one-half of the dough into the bottom of the pan until it reaches the edges. Bring some extra thickness to the edges so that you can press it up the sides of the pan about one inch. Spread the rhubarb-raspberry mixture over the bottom crust. Roll out the top crust to a thickness of ¼ inch and cut into strips about ¾ inch wide. Form these pieces into a lattice pattern over the top of the fruit mixture. The dough is too delicate to actually weave the lattice pattern so just lay the top-most pieces perpendicular to the bottom ones. Bake in the pre-heated oven for 35 to 40 minutes, or until the crust begins to turn golden brown. Remove from the oven and place on a rack to cool. Use a knife to loosen the sides but leave the torte in the pan to cool completely. Before serving remove the sides of the pan and dust the top with powdered sugar.
Filling Ingredients
1/3 cup raspberry preserves
2 cups fresh or frozen rhubarb, cut into ½ inch pieces
1/8 cup flour
1 teaspoon grated orange rind
Directions
Cook the above ingredients in a saucepan over medium high heat until rhubarb is barely soft and mixture starts to thicken. Allow to cool to room temperature.
Filed in: Desserts