Wassail
From China Beach Retreat in Ilwaco, Washington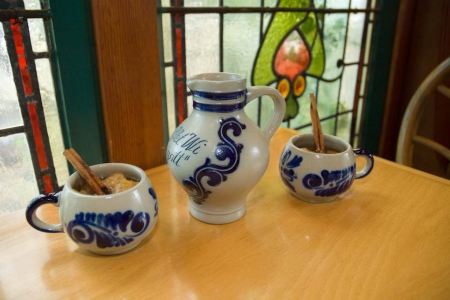 In a state known for its apple crop and cranberries, it's only natural to serve this traditional and heart-warming holiday drink. This is version from China Beach Retreat is particularly flavorful, with lots of added fruit and spice.
Ingredients
One 12-oz container of Old Orchard brand frozen Apple Cranberry concentrate
36 oz cold water
2 oranges
1 lemon
2 tart green apples
1/2 cup dried cranberries
1/2 cup whole, fresh cranberries
4 cinnamon sticks
2 tsp whole cloves
2 whole star anise
1/2 tsp ground allspice
1/2 tsp cardamom seeds (not ground)
Directions
Remove cores from apples but do not peel. Quarter the apples and slice each quarter into 1/2″ chunks. Cut oranges and lemons into quarters and then slice them into 1/2″ chunks, too. Combine all ingredients in a non-reactive pan and heat over medium heat, then simmer for 15 minutes. Serve warm with 1 oz dark rum to each 6 oz glass of wassail. Store in the refrigerator.
Filed in: Beverages & Cocktails